Cut Paste Photos
9.0.4
A Feature Rich and Easy to Use Photo Editor
Pictures have become a very important part of our lives. They are the easiest way to document any moment so that you can always go back in time to relive it. It is also a great tool for sharing what you are doing and what you are experiencing with the world. Even if you aren't a good photographer, you can always edit pictures in order to make them good enough to be shared with the world. With funky photo editors like Cut Paste Photos which can offer a lot more than just conventional editing tools, you can also have a lot of fun with your pictures as well.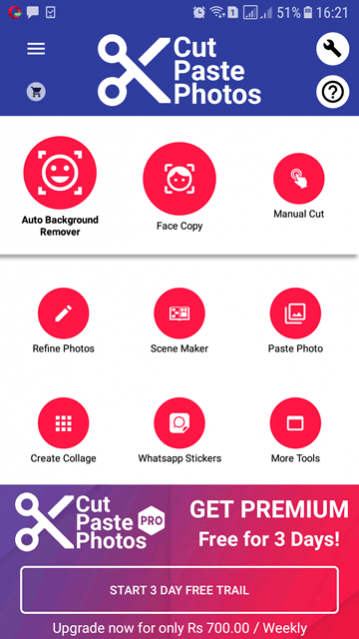 Cut Paste Photos is a very well-designed photo editor app which lets you know all the functions as soon as you open the app. There are a number of features available to edit and improve your pictures. The functions include Auto Background Remover, Face Copy, Manual Cut, Refine Photos, Scene Maker, Paste Photo, Collage Creator and WhatsApp Sticker. There is also a more tools section where you can find other interesting photo editing options as well.
The photo editor tool could be more intuitive and help the users in explaining every function properly. The app doesn't introduce any features and doesn't really give you any hints about how to use a feature to change or improve your picture. A tutorial would be great as there is a slight learning curve associated with the app.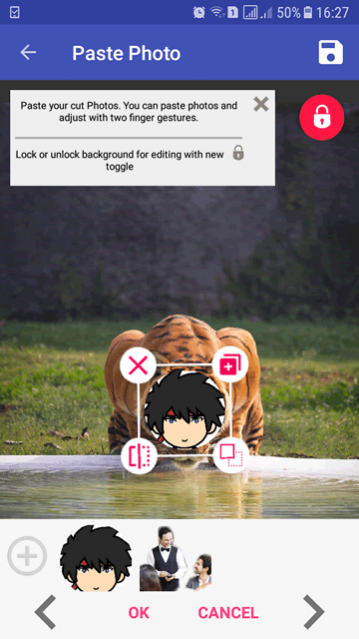 The Auto Background remover is one of the most app's most coveted features whereby you can remove the colored background and just keep the picture's main focus. This is a fantastic feature and is basically a must if you want to paste the picture over another photo. If you won't remove a picture's background, the app won't let you paste it over another photo. The app doesn't spell this out for its user and this is what's frustrating about it all.
The app does offer great editing features for photos after removing their backgrounds including color pop, portrait, clone, motion effect, mirror, camouflage and status stone etc. These are all interesting and funky features which can change the look and feel of the photo. Once you are done with the editing of a photo whose background you have removed, you can get started with the Paste Photo feature through which you can paste your edited picture over a new photo. This is normally great when you want to show two pictures or want to edit something out slightly amateurishly just for fun. For instance, if you want to add yourself into your friend's hangout photo, you can do this wonderfully with this photo editor app.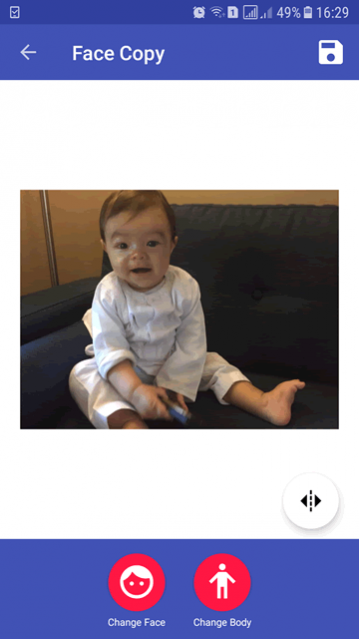 The app's Face Swap feature is also amazing. All you need to do is to select a picture as your base photo and then upload another face picture where the new pictures face would be swapped onto the base photo. This can lead to fantastically funny results. This also puts a funny spin on how any couple's children would look.
The app also allows you to cut paste yourself over dreamy locations etc. with its Scene Maker tool. The app also offers interesting collage options as well through which you can make collages of all kinds.
Features:
Clean and simple user interface
Fantastic auto background remover option
Funny Face Copy tool
Simple and easy to use Manual cut option
Lovely Scene Maker too
Over 10+ fantastic photo editing features
Conclusion:
Cut Paste Photos is a photo editor app which lets you be funky and funny. The app is a straight up nice photo editing tool. However, it becomes worthy of installation only when you are looking to be funny and interesting on your social media. While the app could do with a tutorial, once you will have it figured out, you will love using it!
---
Add a review
Tell us your experience with
Cut Paste Photos
9.0.4
RELATED PROGRAMS
Our Recommendations
---
---
---
---